The students who long for becoming successful people perfectly understand the importance of strong knowledge in their specialization. Nevertheless there are different situations in life.
The good news is that there is no reason to get in panic because with our spy earpiece you will doubtlessly pass the most puzzling exam.
Most students all over the world have already tried our wireless spy earpiece, and now they are sharing with you their valuable and helpful experience about how to cheat on a test.
How to Hide the Secret Earpiece?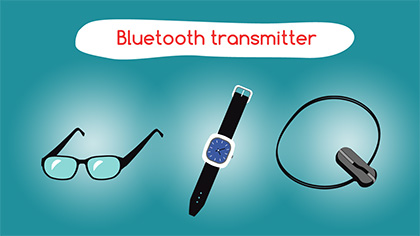 The major advantage of the spy earpiece is its undetectable character which is achieved due to tiny size and natural nude color of the device. The spy earpiece gets fully hidden inside your ear, and it cannot be noticed even by a person you are sitting next to or who you are talking with.

The secret earpiece comes with a Bluetooth transmitter that needs to be hidden as well. If you use a standard Bluetooth loop, you need to put it around your neck and hide under the clothes. That's why a must-have for cheating exam with the spy ear is a sweater, jacket or shirt with a stand-up collar or turtle neck. Anyway it's highly recommended to try on clothes at home and make sure that the device gets completely hidden and cannot be seen by others when you walk, sit down or get up.

Among advanced Bluetooth transmitter types for cheating exam there is Glasses or Watch Kit. In this case you even don't need to hide the transmitter. You just put it on like an ordinary watch or glasses.

All these Bluetooth transmitter types are highly effective for successful cheating exam, so you can choose any one according to your personal preferences.
How to Behave Properly While Cheating Exam?
Most students don´t know how to cheat on a test or exam and behave like crazy — they look at the professor all the time or make much noise. The reason is their nervousness, but that's what unmasks them in the majority of cases. So cheating exam with a secret earpiece remember the main rule – to be patient and to behave like a student who have learned the subject by heart and has nothing to hide. Here we offer you some essential tips on patient and confident behavior while cheating exam with the spy earpiece:
Don't write without pauses. Stop from time to time and pretend you are thinking
Don't touch your ear or the Bluetooth transmitter except the cases it's highly necessary
Don't look at the professor frequently, and don't behave like a person who has something to hide
Don't make noise when you get in contact with your partner (read further to know how to interact with your friend in an unsuspicious way)
How to Contact with Your Partner Avoiding Suspicion?
Know how to cheat on a test or exam without causing suspicion? The major mistake of most newbies cheating exam with the spy earpiece for the first time make the same mistakes – they cough, sneeze or knock the transmitter to get in contact with their partner. Please, remember, these actions are too obvious and any professor will unmask you and your intentions.
According to experienced students it's much better to tap a button on your cell phone – the main thing here is not to tap Reject button by mistake. So practice at home, having placed the phone in your pocket and tapping a certain button to make a signal to your friend.
Another essential moment is to agree beforehand about essential signals. Choose any signals you like but make sure that they cover all the actions you might while cheating exam. The most important among them are: speak more slowly/faster, louder/quieter, repeat, etc.
The right person as your assistant is also essential component of successful cheating exam. It is better to choose a person who knows at least basics of the subject and is able to react fast. Read more about how to help your friend in cheating exam.
Good luck!
Spy earpiece is effective and easy solution to puzzling situations you may face in your student life. Choose you ideal spy set on Products page. And remember – only a person who knows how to find way out of difficult situations can become successful. Good luck! You will pass!